The NIH: National Cancer Institute, predicts 135,430 new cases of colon cancer in 2017. In a new study that I will be discussing in this post, the lead researcher, Erin Van Blarigan, ScD, said that there are over 1.3 million colon cancer survivors in the US. 
This newest study shows how important diet & life style can be in reducing the risk & recurrence of colon cancer. In my research I have found that these same guidelines should be followed by all cancer survivors/thrivers. 
---
What is colon cancer?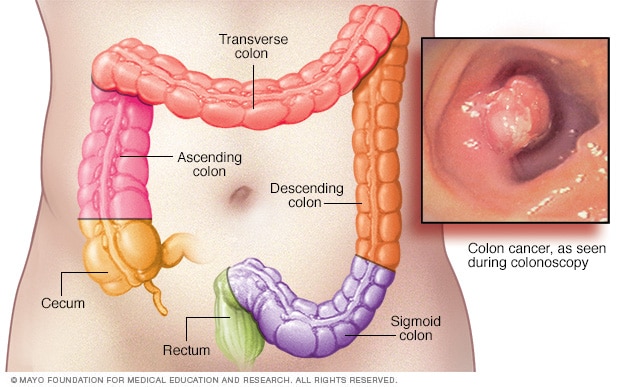 The Mayo Clinic has an informational page about Colon Cancer  The overview states that: "Colon cancer is cancer of the large intestine (colon), the lower part of your digestive system. Rectal cancer is cancer of the last several inches of the colon. Together, they're often referred to as colorectal cancers. Most cases of colon cancer begin as small, noncancerous (benign) clumps of cells called adenomatous polyps. Over time some of these polyps become colon cancers.
~Important to note~ WebMD writes; "Although most colorectal polyps do not become cancer, virtually all colon and rectalcancers start from these growths."
Under Prevention, the Mayo Clinic recommends, besides yearly screening, the following:
Make lifestyle changes to reduce your risk. You can take steps to reduce your risk of colon cancer by making changes in your everyday life. Take steps to:
Eat a variety of fruits, vegetables and whole grains. Fruits, vegetables and whole grains contain vitamins, minerals, fiber and antioxidants, which may play a role in cancer prevention. Choose a variety of fruits and vegetables so that you get an array of vitamins and nutrients.
Drink alcohol in moderation, if at all. If you choose to drink alcohol, limit the amount of alcohol you drink to no more than one drink a day for women and two for men. I still have a difficult time with this recommendation to limit the amount of alcohol you drink to no more than one drink a day for women and two for men. It seems excessive to me. 
Stop smoking. Talk to your doctor about ways to quit that may work for you.
Exercise most days of the week. Try to get at least 30 minutes of exercise on most days. If you've been inactive, start slowly and build up gradually to 30 minutes. Also, talk to your doctor before starting any exercise program. 

I recently read that 150 minutes a week of aerobic exercise is recommended. 30 minutes a day on a bike or walking, 5 days a week.

Maintain a healthy weight. If you are at a healthy weight, work to maintain your weight by combining a healthy diet with daily exercise. If you need to lose weight, ask your doctor about healthy ways to achieve your goal. Aim to lose weight slowly by increasing the amount of exercise you get and reducing the number of calories you eat. Age old sound advice. 
---
Following the Mayo Clinics recommendations not only will reduce the risk of colon cancer but for those diagnosed they will reduce the risk of recurrence. Lets look at the newest studies published this past week.
Medical Press article:  Eating right and exercising could reduce the risk of colon cancer coming back  May 18, 2017 by Elizabeth Fernandez
Colon cancer patients who have a healthy body weight, exercise regularly and eat a diet high in whole grains, fruits and vegetables have a significantly lower risk of cancer recurrence or death, according to a research team led by UC San Francisco investigators. This finding represents an analysis of data collected on patients participating in a national study for people with stage III colon cancer. The analysis involved 13 other institutions and patients were evaluated over approximately seven years.
"We found that colon cancer patients who reported a healthy body weight, engaged in regular physical activity, and ate a diet rich in whole grains, vegetables and fruits that was low in red and processed meats, had a lower risk of cancer recurrence and death compared to patients who did not engage in these behaviors," said lead author Erin L. Van Blarigan, ScD, assistant professor in the UCSF departments of epidemiology and biostatistics, and urology. 
Researchers found that over a median follow up period of seven years, colon cancer survivors who adhered to the healthy lifestyle guidelines had a 42 percent lower risk of death and 31 percent lower risk of cancer recurrence compared to patients who did not engage in these behaviors. Those are amazing statistics! You rarely see such impressive results.
---
Another article on the same study was in Targeted Oncology: Healthy Lifestyle Linked to Improved Overall Survival, Reduced Recurrence in Colon Cancer  Beth Fand Incollingo, Thu May 18, 2017  Lost in the headlines is the reason the study was set up: Investigators enrolled the patients from 1999 through 2001, adding them to the study within 8 weeks of surgery and immediately starting them on 6 months of chemotherapy. The primary purpose of the study was to consider the effects of 2 types of postsurgical chemotherapy on cancer recurrence and death. But also during the study, lifestyle was assessed twice using validated surveys—at enrollment and 6 months after each patient finished chemotherapy. The participants were receiving conventional care at the same time their lifestyle changes were studied. This does not take away from the impressive results of the study.
The last paragraph in this article is important to note: One caution was mentioned about the findings. "It should be emphasized that the authors are not suggesting that a healthy lifestyle alone should be considered a substitute for standard chemotherapy and other treatments for colon cancer, which have dramatically improved survival. Rather, patients with colon cancer should be optimistic, and they should eat a healthy diet, and exercise regularly, which may not only keep them healthier, but may also further decrease the chances of the cancer coming back," said Daniel F. Hayes, MD, FACP, FASCO, president of ASCO. 
---
Another study that ASCO, the American Society of Clinical Oncology reported on:  Chance of Colon Cancer Recurrence Nearly Cut in Half in People Who Eat Nuts May 17, 2017, Kelly Baldwin  "An observational study of 826 patients with stage III colon cancer showed that those who consumed two ounces or more of nuts per week had a 42% lower chance of cancer recurrence and 57% lower chance of death than those who did not eat nuts.
A secondary analysis revealed the benefit of nut consumption was limited to tree nuts. Tree nuts include almonds, walnuts, hazelnuts, cashews, and pecans, among others. These findings will be presented at the upcoming 2017 ASCO Annual Meeting in Chicago."
"Basic healthy eating can often be overlooked during cancer treatment. This study shows that something as simple as eating tree nuts may make a difference in a patient's long-term survival," said ASCO President Daniel F. Hayes, MD, FACP, FASCO. "Nut consumption and a healthy diet are generally factors that clinicians and patients should perhaps pay attention to as they design the approach to treatment for colorectal cancer." The study participants were undergoing conventional chemotherapy at the time.
I am encouraged to see such a prestigious group as ASCO recommending that clinicians & patients should pay attention to diet & lifestyle changes before, during & after diagnosis & treatment of colon cancer. Again I say that this idea should be included in all medical care.
---
The Centers for Disease Control & Prevention recommends the following for colon cancer screening:  
The U.S. Preventive Services Task Force recommends that adults age 50 to 75 be screened for colorectal cancer. The decision to be screened after age 75 should be made on an individual basis. If you are older than 75, ask your doctor if you should be screened. People at an increased risk of developing colorectal cancer should talk to their doctors about when to begin screening, which test is right for them, and how often to get tested.
Several screening tests can be used to find polyps or colorectal cancer. The Task Force outlines the following colorectal cancer screening strategies. Talk to your doctor about which of the following tests are right for you.
Stool Tests
The guaiac-based fecal occult blood test (gFOBT) uses the chemical guaiac to detect blood in the stool. It is done once a year. For this test, you receive a test kit from your health care provider. At home, you use a stick or brush to obtain a small amount of stool. You return the test kit to the doctor or a lab, where the stool samples are checked for the presence of blood.
The fecal immunochemical test (FIT) uses antibodies to detect blood in the stool. It is also done once a year in the same way as a gFOBT.
The FIT-DNA test (also referred to as the stool DNA test) combines the FIT with a test that detects altered DNA in the stool. For this test, you collect an entire bowel movement and send it to a lab to be checked for cancer cells. It is done once every one or three years.
Flexible Sigmoidoscopy
For this test, the doctor puts a short, thin, flexible, lighted tube into your rectum. The doctor checks for polyps or cancer inside the rectum and lower third of the colon.
How often: Every 5 years, or every 10 years with a FIT every year.
Colonoscopy
This is similar to flexible sigmoidoscopy, except the doctor uses a longer, thin, flexible, lighted tube to check for polyps or cancer inside the rectum and the entire colon. During the test, the doctor can find and remove most polyps and some cancers. Colonoscopy also is used as a follow-up test if anything unusual is found during one of the other screening tests.
How often: Every 10 years.
CT Colonography (Virtual Colonoscopy)
Computed tomography (CT) colonography, also called a virtual colonoscopy, uses X-rays and computers to produce images of the entire colon, which are displayed on a computer screen for the doctor to analyze.
How often: Every 5 years.
How Do I Know Which Screening Test Is Right for Me?
There is no single "best test" for any person. Each test has advantages and disadvantages. Talk to your doctor about the pros and cons of each test, and how often to be tested. Which test to use depends on—
Your preferences.
Your medical condition.
The likelihood that you will get the test.
The resources available for testing and follow-up.
Our insurance recommends the stool screening which is done with a kit at home. They send us a kit every year by post & we take it to our local clinic to be tested. Could not be easier. If you haven't been tested in the last 1-3 years, then you should ask your doctor about it. 
---
Next week I will report on all the interesting news items I have collected during the month of May. Until then…Mary 🙂
---
Resources