Our garden is flourishing right now with many different vegetables. Some are old favorites like potatoes, carrots, peas & broccoli. Some I have never heard of; my husband loves to try new types of greens. So, I need some new, simple recipes to keep up! I enjoy going through magazines, websites & older cookbooks for recipes. There are so many out there!
I have found that cooking from scratch doesn't have to be difficult. Time consuming, yes 🙂 But if you make large batches, portions can be frozen. The key is to keep it simple, starting with your pantry.
I have been asked, by many of you, what I keep in my pantry & what type of food processor I use. The only "culinary machines" I have in my pantry are: a Bullet blender, an immersion blender, a slow cooker (crock-pot), toaster oven & my Vitamix. They are simple to use & all I have needed. The most important implements are my mismatched knives 🙂 Chopping & dicing veggies can be a mindfulness event. A way of slowing down & connecting to your food.
Let's look at what staples I have in my pantry & then go on to some recipes.
---
My pantry staples include the following ~ all are organic.
Various dried beans: pinto, chili, kidney, soldier, garbanzo, lentils &13 bean mix. I store them in quart, large mouth, canning jars.
Grains: quinoa &  different types of rice. My favorite is black rice because of its nutty taste. I also keep brown rice for recipes that need a "plainer" rice. Also stored in quart, large mouth, canning jars.
Rolled & steel cut oats.
Pasta. Plain old semolina.
Raw nuts & seeds: walnuts, cashews, almonds, sunflower seeds & whatever I find on sale. Also stored in quart, large mouth, canning jars.
Popcorn.
Canned organic diced & roasted tomatoes (BPA free can)
4 ounce cans of diced green chilies. Wonderful to throw into any stir-fry, bean pot etc.
Whole grain cereal.
Whole grain crackers.
Spices & dried herbs. The herbs are from my herbal garden.
Nutritional yeast: on popcorn & veggies gives buttery flavor.
My favorite broth:
Coconut oil. I like Dr. Bronner's the best.
Extra Virgin Olive Oil.
Shoyu sauce, or Tamari.
Balsamic Vinegar.
Apple Cider Vinegar. Braggs.
Honey. Local, organic.
Maple Syrup.
Vegenaise; vegan mayonaise.
Mustard…I love them all 🙂
Whole wheat flour. Bob's Red Mill.
---
This morning I noticed that I had some cottage cheese leftover after making Spanikopita for my visiting family. I Googled ways to use it & found an interesting recipe for high protein pancakes. I decided to give them a try. It is the easiest pancake recipe I have ever used. I whipped it up in my Bullet blender so it would be an easy cleanup.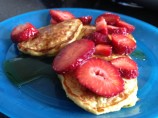 Photo by michelle_sandiego
Prep Time: 5 mins, Total Time: 15 mins, Servings: 1…

made 3 medium pancakes.
ABOUT THIS RECIPE: "These are wonderful and are almost too healthy to be true. Lots of calcium, protein, fiber, etc. I usually eat them without any topping and just keep popping them in my mouth! Yum. But a good jam will do them nicely as well." Very good! I ate them like toast with fresh fruit.
INGREDIENTS
1/2 cup oatmeal
1/2 cup cottage cheese
1 teaspoon vanilla
4 egg whites: 

You can use 2 whole eggs if you want to. 
DIRECTIONS
Blend all ingredients in blender.
Spray skillet with cooking spray and cook just like"silver dollar" pancakes, a few small ones at a time. 

I used olive oil for the first one & tried coconut oil for the others. Both were delicious.

Top with your favorite pancake topping! 

I had fresh strawberries, & blueberries.
For vegans from Kitchen Treaty: Gluten-Free Vegan Banana Oat Blender Pancakes Check out the "Browse all recipes tab".
Flourless Pancakes – 3 Ingredients This recipe is from Chocolate Covered Katie! I can't wait to try them. super simple!
---
I love bean dishes because they are easy, high in fiber & protein. I don't pre-soak the dried beans. I bring them to a boil, let them boil 2 minutes, turn off the heat & let them sit for 30 minutes to an hour. I then add all my ingredients & simmer them for 3 hours or until the beans & veggies are soft. I like to vary the mixture with different types of beans, rice or potatoes, carrots, onions, garlic, the can of roasted tomatoes, & a can of chopped green chili's. Super simple! I also add a square of the Not-Chicken Broth. If I have leftovers by the end of the week, I use my blender to make it into a bean dip/spread! Portions can be frozen. 
This is a good salad recipe. Using canned beans here is the best option. Although I wonder if 13 bean soup mix, cooked ahead, would work …hmm…will have to try that. An Easy Bean Salad That's Perfect for Summer Parties When you go to this recipe, look to the right, there is an index for more recipes.
The same website also has this: Summer Challenge: Add 1 More Vegetable to Each Meal! Great tips, check it out.
---
We have a lot of an Asian green called Mitzuna & another green, Broccoli Rabe in our garden. We put the tender leaves in our salads. As they get larger, I use them both in place of spinach in recipes. I tried combining the two in a pesto in place of basil. It was very good. I also throw in a handful or two of one, or both, when cooking a pot of beans or a stir-fry. They thicken it & also give it a nutritional boost 🙂 You can use kale & chard the same way. 
Here are some very good simple recipes for Mizuna & Broccoli Rabe:
Maria's Broccoli Rabe  from AllRecipes. I use a lot of recipes from this website. They have an array of recipes for non-vegetarians, vegetarians, & vegans.
7 Ways to Use Mizuna  from Early Morning Farms. Check out the Recipe Index. Lots of tasty recipes.
---
My challenge this week is how to cook a big basket of sugar snap peas, green beans & snow peas. When harvesting them, I snack on them raw. Yum!
I have roasted them with potatoes before & they were very good. 
Roasted my way.
Combine the following in a blender & blend until smooth:
1/4-1/2 cup olive oil depending on how many vegetables you are cooking.
1/8-1/4 cup Tamari sauce
Fresh/dried sage, thyme & tarragon to taste, about 1 tsp. each.
Lemon pepper to taste
Toss the vegetables in the above marinade. Lay out in one layer on a large cookie sheet lined with parchment paper. Roast in oven at 425 for 30-35 minutes. Serve hot with a large salad for dinner. The left-overs can be stir-fried with scrambled eggs for breakfast or lunch.
---
Last night I tried this recipe from Taste of Home: Check out their recipe tab at the top of the web page. 
Sugar Snap Pea Stir-fry Recipe: Excellent!
Ingredients
1 pound fresh sugar snap peas 

I threw in snow peas, green beans & sugar snap peas. Turned out to be a wonderful mix.

2 teaspoons canola oil  

I used Olive Oil

1 garlic clove, minced 

We love garlic, I added 4 cloves in chunks.

2 teaspoons minced fresh ginger root

1-1/2 teaspoons balsamic vinegar

1-1/2 teaspoons reduced-sodium soy sauce

1 teaspoon sesame oil  

I like the darkest sesame oil.

Dash cayenne pepper

1 tablespoon minced fresh basil or 1 teaspoon dried basil

2 teaspoons sesame seeds, toasted
Directions
In a large nonstick skillet or wok, saute the peas in canola oil until crisp-tender. Add the garlic, ginger, vinegar, soy sauce, sesame oil and cayenne; saute 1 minute longer. Add basil; toss to combine. Sprinkle with sesame seeds.

 Sesame oil is a low heat oil. It is better to use it at the end of any recipe for flavor & not for cooking. It doesn't take very much for a flavorful dish. 
---
Slow cookers are so very convenient. You just throw everything in the pot & leave it alone. If you have a safe counter to put it on, you can leave it for the day & come home to a cooked meal! What can be more simple, well maybe a personal cook 🙂
I make granola in my slow cooker. It is easy & I haven't burned it yet! It just requires you to be home for 2-3 hours to stir every 30 minutes! Well worth the time. This is the recipe I use.
Granola in your Slow Cooker from The Prairie Homestead
5 cups old-fashioned rolled oats (not the quick oat kind)
1/2 cup ground flaxseed (optional- see note below)
3/4 cup coconut oil or butter I use coconut oil.
3/4 cup honey
2 Tablespoons vanilla extract
2 Tablespoons cinnamon I have also added nutmeg just to be different.
1 1/2 cups unsweetened, shredded coconut
1 cup chopped nuts of your choice My favorite are raw walnuts.
1 to 2 cups dried fruit, chocolate chips, or other mix-in of your choice My husband does not like dried fruit in it, but he did like the dried Goji Berries I put in it one time. 
In a small saucepan, melt the coconut oil or butter.
Once it has turned into a liquid, mix in the honey.
Mix the oats, flaxseed, coconut, and nuts together in your slow cooker.
Add the honey mixture as well as the vanilla and cinnamon. Stir thoroughly.
Allow the granola to cook on low for 2-4 hours. Give it a quick stir every half hour or so to keep it from burning around the edges. Leave the lid slightly cracked to allow moisture to escape (this prevents soggy granola).
Cooking times will greatly vary depending on your slow cooker. Mine cooks very hot, so 2 hours was almost too long. As the granola gets closer to being finished, it will have a tendency to burn faster, so keep an eye on it. Mine takes 2 1/2 hours on LOW.
Allow to cool, then mix in the dried fruit and/or chocolate chips.
Store in the refrigerator in an air-tight container for several weeks. Great as a topping on fresh fruit as well. Goes quickly in my house. It is a great gift for family & friends.
---
My mother taught me to use a pressure cooker when I was a kid. I loved the flavor of the foods when cooked this way. I bought one for the stove top & used it for many years. I lost it in one of my moves 🙁 Time to replace it.
Pressure Cooker Recipes 

"Pressure cookers give "fast food" a whole new meaning! Get recipes, including quick, easy, and healthy options for roasts, soups, and making beans from scratch."
---
---
I have a lot of cookbooks. Too many to list here. Here are the two that I use most often.
Moosewood Cookbook  by Molly Katzen. This link is to my favorite cookbook by her.
The Fanny Farmer Cookbook  by Marion Cunningham & Lauren Jarrett. This is my very favorite basic cookbook. I have had mine since 1980.
---
August is here already. The time of harvest. Enjoy all the wonderful produce & fruits from your local farmers market. With all these simple recipes you have no excuse not to try a new vegetable!  
Until next week….Mary 🙂